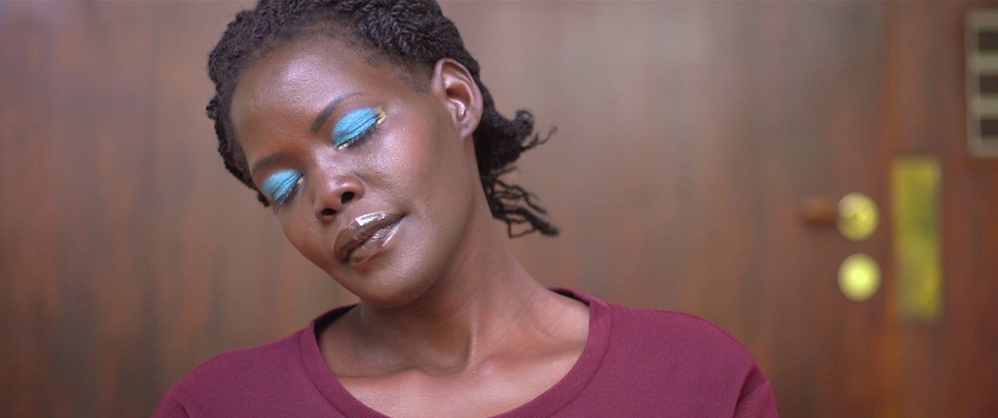 WONDERLAND
2017
Full HD video | 2.39:1 | 7.30 min. | color | sound
Wonderland explores and traces the relationship between man, art and architecture in the setting of Villa Beer - a prototype of modern living built by architect Josef Frank between 1929 and 1931 in Hietzing, Vienna. Kay Walkowiak utilises the rooms for a sensory experience of space, in which human bodies, as performative nudes, are being "paired" with sculptures.

Wonderland visually interweaves a detailed inventory of Josef Frank's Villa Beer with a fragmentary performative setting of queer gestures of human intimacy in a domestic space. In the eight-minute short film, the surface of the Villa Beer is subtly scanned and the architecture of its rooms carefully explored with calm, cinematic-looking picture shots. The camera glides through the house almost as if in slow motion, searching for traces of a human presence. In each individual room, the gaze meets a person who is in a physical dialogue with minimalist objects and architecture - where documentary and cinematic fiction merge.
Concept / Directed / Edited: Kay Walkowiak
Performer: Agnes Achola, Thomas Hörl, Anna Liska, Philipp Koushan, Barbara Probst, Kay Walkowiak, Andreas Wesle
Vocals / Piano: Albert Baena, Jiaran Wang
Camera: Brett Novak
Postproduction: Brett Novak, Florian Spies
Production Assistants: Barbara Probst, Magdalena Zeller
HMUA: Marietta Dang
Special Thanks: Architekturzentrum Wien
Supported by: Federal Chancellery of Austria, Federal State of Salzburg, City of Salzburg, City of Vienna